Our 2021-2022 Faculty
Briana Lynch BFA hons.
President, Artistic Director, Creative Movement, Ballet, Jazz, Hip Hop, and Contemporary
Briana Lynch began her dance career at the age of 5 in Fergus, Ontario with The Teresa Randall School of Dance. There she focused primarily on ballet and trained extensively within the Royal Academy of Dance syllabus.  Briana also became versatile in Jazz (CDTA) and Modern (Graham and Limon). She began assisting and then teaching at her home studio and has not looked back since.
After high school, Briana was accepted into Ryerson University's Dance Program under the direction of Nadia Potts. While in the Dance Program she majored in Pedagogy; the teacher training program for children's dance instruction through the Royal Academy of Dance and Ryerson University. Throughout her 4 years at school she was able to work with some of Toronto's most influential choreographers and instructors further developing her own skills as a teacher. Briana graduated from Ryerson with an Honours Bachelor Degree in Fine Arts Dance. Immediately after graduation, Briana began teaching and choreographing around Toronto, working with many studios and art schools in the city. She also co-founded Recoil, a modern dance company.
In 2006 Briana moved to Guelph, Ontario to launch The Guelph Academy of Dance. In 13 short years the studio has blossomed from 75 students to over 500 students with classes in Creative Movement, Ballet, Jazz, Hip-Hop, Musical Theatre, Tap, Contemporary, and Pointe as well as the extremely popular summer dance camp "The Dance Days of Summer". Briana was incredibly honoured to be recognized as a Women of Distinction award in 2017 through the YMCA/YWCA of Guelph. She was thrilled and honoured to be named as "Favorite Dance Teacher 2010 and 2012" by the Guelph Mercury and her studio won both Platinum and Diamond award of "Best Dance Studio" by the Mercury Tribune's Reader's Choice Award 2014, 2015, 2016, and 2017.
---
Ulrika Englund
Tap, Jazz, Creative Movement, and Musical Theatre
Ulrika began dancing at the age of 10 at her local dance studio in her hometown of Karlstad, Sweden. Originally she studied Jazz dance, but quickly advanced into Ballet, Modern, Tap, and Hip Hop. She fell in love with the art form and immersed herself completely. Ulrika auditioned and was accepted into her studio's Dance Company and had the opportunity to perform at trade shows, festivals and special events.
In 1994 she left home, moved to Gothenburg, Sweden and entered a four year dance program at the College for professional dance studies. At the Ballet Academy of Gothenburg she received intense training in Ballet, Pointe, Jazz, Modern, Tap, and Musical Theatre. As part of the program she also studied National Dancing, Flamenco, Pilates, Kinesiology, Dance History, Dance Repertoire, and Choreography. One of the many wonderful aspects about the program was the international faculty of teachers and choreographers such as Mr. Anthony Ferro, a dancer with the Twyla Tharp Dance Company and featured in the movie Hair from 1979.
Ulrika graduated with a Diploma in the spring of 1998 and was immediately hired as a dancer for an international cruise line. Her love for dancing and travelling combined brought her to Toronto a year later where she continued to pursue her dance career. She began teaching in the year 2000 and has taught at many of Toronto's renowned dance schools such as The National Ballet School of Canada (Junior Division), City Dance Corps and The Martha Hicks School of Ballet. Ulrika joined the faculty at the Guelph Academy of Dance in the summer of 2007 and is since a much-loved teacher at the studio. In 2011 Ulrika and her family moved to Guelph and is now happy to call this wonderful city their home.
Ulrika feels very fortunate to be able to share her passion for dancing with her students and aspire to help them grown not only as dancers but as people. Ulrika is very excited for the new dance season to start at the Guelph Academy of dance and is looking forward to another amazing year at the studio
---
Megan Loppe, B. Math Hons, B.Ed., TTP Dip. (NBS), RAD RTS, OCT
Ballet and Pointe
Megan has been studying ballet for more than 30 years and is a registered teacher with the Royal Academy of Dance. Megan graduated with distinction in 2003 from Canada's National Ballet School in their Teacher Training Program. This three year intensive program included studies in three styles of ballet, modern dance, national dances, anatomy, pedagogy, body conditioning, music, dance history, and Benesh Notation. After graduating, Megan taught at Canada's National Ballet School in the unique role of History of Ballet Teacher until 2006.
Megan has long held an interest in education and is registered with the Ontario College of Teachers. In 2000, Megan graduated from the University of Waterloo in their Math Teaching Option program and also received her Bachelor of Education from Queen's University through their joint co-op program.
Since 2003, Megan has taught Mathematics, Computer Science, and Ballet at high schools and dance studios in Guelph, Toronto, Ottawa, and Waterloo. This is Megan's ninth year teaching at Guelph Academy of Dance, and she is really looking forward to teaching the ballet program!
---
_
Maddison Robinson

Contemporary, Hip Hop, and Jazz
Maddison Robinson is a graduate from The George Brown Dance program in Toronto. Maddison is well diverse in Ballet, Jazz, Contemporary, Hip Hop, Tap and Pointe. She has had the opportunity to train with renowned artist such as Hannah Keil, Ballet Jorgen, Frank Augustine, Ryan Lee, Kathleen Rea, and Nicole Pantin. She has also been training with Toronto dance Artists Danny Davalos and Chelsea Seward for the past year and will continue to dance apart of their shows around Toronto. 
 
Maddison's passion for dance first began in 2006, the inaugural year of The Guelph Academy of Dance.  Maddison trained under the tutalage of Briana Lynch, Ulrika Englund, Jenna Oxley and was a part of the very first graduating class. She has had the privilege to return after her studies in Toronto and begin her teaching career at the studio that she calls home. Maddison is very excited to share her love of dance with her students and for another year at The Guelph Academy of Dance.  
---
Samantha Selihar, RAD RTS, AAC2
Ballet
Samantha is an accomplished competitive dancer who realized her passion for dance at a young age. After graduating from the competitive dance team, she studied human anatomy and physiology at Sheridan College in the General Arts and Science program and soon after completed the Certificate in Ballet Teaching Studies to become a registered teacher with the Royal Academy of Dance. Most recently, Samantha has continued to fuel her thirst for knowledge by attaining a Bachelor of Arts in Dance Education, during which she received the Iris Truscott Scholarship. She is also certified with Acrobatic Arts (AAC2), Progressing Ballet Technique, ADAPT (year 2), is a proud member of the Professional Adjudicators Alliance, and is AcroDance Competition Adjudicator Certified.
Samantha's career as a dance educator began when she taught the town's Parks and Recreation dance program at the studio. She has since spent many Saturday mornings teaching the youngest dancers as well as many late nights coaching the most advanced level dancers. She is extremely proud of her students, some of whom have gone on to pursue professional dance careers.
Samantha's teaching style and enthusiasm for sharing her knowledge with aspiring dancers ensures that all students receive technical training that meets the highest international standards, while enthusiastically training and coaching students to achieve their own personal goals. Samantha promotes professional etiquette, healthy attitudes, and mutual respect for everyone, setting the stage for a positive learning environment where students receive a broad dance education.
---
Anna Defent
Ballet, Contemporary
Anna Defent, born in Ontario, Canada, began her dance training at the early age of three at Judith Coleman Oxford School of Dance. Her passion for dance grew as she did, and she embarked on a variety of dance opportunities including many local festivals, dance shows and summer schools at both Quinte Ballet School and Royal Winnipeg Ballet School. Having limited training in a small town, Defent made the ambitious decision to attend the School of Alberta Ballet at 15, and she graduated in 2013. Studying under Nancy and Murray Kilgour, she was able to perform a great deal and gain much knowledge and strength.
In her high school graduating year Anna was accepted to the School Of Toronto Dance Theatre. Within the three year program she volunteered her time generously assisting in the Young Dancer's program, and being the Assistant Stage Manager for multiple student run productions. In 2016, Anna graduated college with a certificate in contemporary dance where she then traveled becoming a freelance dance artist in The United Kingdom and Europe. Anna has toured and danced with multiple contemporary artists/groups performing in various shows around Europe including Germany, Spain, Austria and Denmark.
While in the UK, Anna joined an organization based in New York City called MindLeaps and has been teaching street youth dance and cognitive/non-cognitive skills in West Africa ages 9-21. She was able to spend a great deal of time in Guinea and Mauritania following in love with the culture kids and movement.
Anna is very passionate about sharing her knowledge of dance and has happily been teaching in London, England with The Little Dance Academy and Central School of Ballet for the 4 years. She's excited to be back in Canada as she is teaching at The Woodstock School of Dance and Yoga, Dance In Style and joining The Guelph Academy of
Dance for their 16th dance season.
---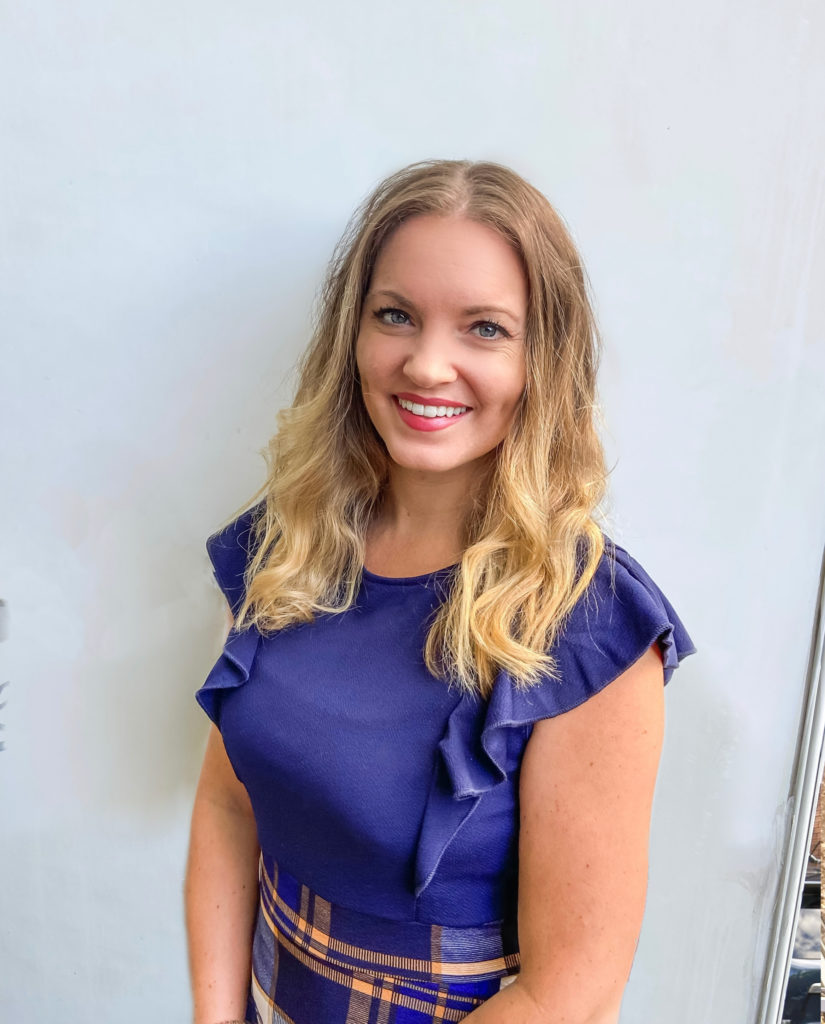 Elona Love
Contemporary, Hip Hop, Jazz, Musical Theatre, Tap
Elona Love started dancing at the age of 3 in Guelph and felt at home onstage right away. She started out taking ballet and quickly started signing up for every type of dance she could. She trained as a competitive dancer at Backstage Dance studio, and competed in groups and solos in jazz, contemporary, acro, hip hop, tap and musical theatre.
She attended Brock University where she studied English Literature, but danced for the university competitive team and also taught some of the recreational classes there. After graduating, she returned to her home studio and continued teaching recreational classes for kids and adults in musical theatre, tap, jazz and contemporary. She then attended Niagara University where she earned her Masters in Education, and worked as a teacher in Glendale, California before returning to Canada.
She continued to dance competitively as an adult in both tap and hip hop and had an absolute blast dancing again with adults who had once been her own teachers as well as dancing with fellow students. In 2016 Elona made the squad for the Hamilton Tiger Cats Cheerleaders, and performed at all home games, as well as performing the half-time show at the 2016 Grey Cup, which was led by One Republic.
Also in 2016, Elona began taking the adult classes at The Guelph Academy of Dance and has been signing up for every class possible since then! 
Outside of the dance world, Elona also has an acting background, including starring in an online web series sponsored by ABC, and making guest cameos in musicals put on by the online theatre company, Starkid.
Elona is extremely passionate about dance and is so excited to be joining The Guelph Academy of Dance this year!